John O'Neill
August 22, 2019 | News
Featured Members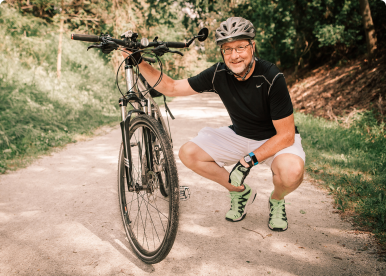 Great people. Strong values. Unwavering commitment to community. Isn't it interesting how the expressions used to describe your favorite neighbors — the bedrocks of your neighborhood—are the same ones that John O'Neill used to describe MembersOwn Credit Union.
At the risk of sounding cliché, John wants everyone to know that, "You're really not just a number here." He's been not a number with us since 1998.
John has witnessed firsthand how the credit union has grown and evolved. "They stay on the cutting edge of new technology and keep up with trends to bring members convenient ways of banking. I think MembersOwn Credit Union has one of the best online sites I've run across and do most of what I need to through Online and Mobile banking. I am enrolled in automatic deposits, make mobile deposits, use the calculators, and pay my loans electronically."
Along with taking advantage of our services, John also has quite a few of our products: checking, savings, credit card, home loan, home equity line of credit and three car loans. Though John does most of his banking online, he knows that a friendly member service representative is just a stop or phone call away. "They've always treated me as someone important." That's because, like all our members, he is.
As our Featured Member, John has chosen Great Plains Trail Network (GPTN) as his charity, an organization that has touched him and his family personally. After having open heart double bypass surgery seven years ago, John has taken up biking as his main source of exercise and feels fortunate to have access to Lincoln's extraordinary trail system and bike friendly community. "In 2016, Lincoln won the National Bike Challenge — and it's in large part due to the efforts of the GPTN. Being able to bike has been a key to my recovery and keeping my heart healthy for years to come."
You can help John raise money for GPTN by liking MembersOwn on Facebook or following us on Twitter. For 100 total new Facebook profile "likes" and Twitter followers during August 2017, we will donate $500 to Great Plains Trail Network on John's behalf. As we always say, what matters to our members, matters to us.