Geri Vanderfeltz
August 22, 2019 | News
Featured Members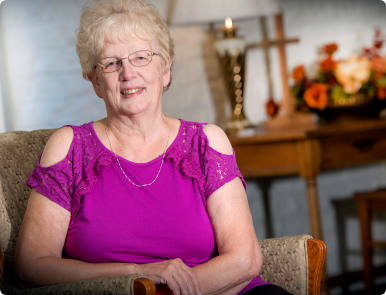 Nurture is in Geri Vanderfeltz's nature. It's why she spent over 25 years caring for people with intellectual disabilities at Mosaic in Beatrice (formerly a Martin Luther Home). It's also why, even in her retirement, she's chosen to raise money for Mosaic as MembersOwn Featured Member.
When she talks about her time at Mosaic, Geri's honest about the emotional toll, but she says, "It's all worth it when you get a hug you're not expecting or see them learn something new." Those hugs are why she put in more than two decades of hard work. They represent a relationship built on trust with someone who truly cares. We're proud to have Geri as a member of MembersOwn and to help her make more hugs happen.
Geri has been a member for so long, she couldn't tell you the exact year she joined. In the 90s, she applied for an auto loan and was so happy with the service, she switched to MembersOwn for all her banking needs, from checking and savings to a credit card and a personal loan. She's enjoyed many of our services, but it's the people that make her feel most at home. "They've always been so accommodating. If I ever need help, I just give them a call."
As the owner of a few storage units, Geri finds Mobile Deposit through the MembersOwn mobile app particularly convenient. "All I have to do is take a picture with my phone and it's deposited. No need to go in every time I get a check." She also loves having all her bill payments automated through eBill pay. "I just log in to see they've gone through. It gives me peace of mind."
When asked why she's been a member for so long, Geri says, "I like everything about MembersOwn. It's all to my liking—simple, easy and friendly." It's that last one we take the most pride in. When you become a member, you join a team that cares about what you care about. And Geri cares about hugs.
You can help Geri raise money for Mosaic in Beatrice by liking MembersOwn on Facebook or following us on Twitter. If we get 100 total new Facebook profile "likes" and Twitter followers during October 2017, we will donate $500 to Mosaic in Beatrice on Geri's behalf. As we always say, what matters to our members, matters to us.