Justin Sandoval
August 22, 2019 | News
Featured Members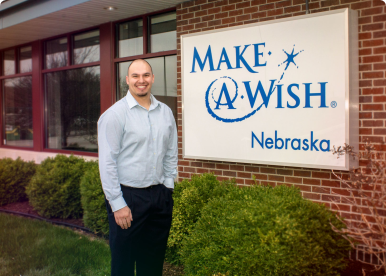 It's not often that you hear someone describe a financial institution as a "place of wonders." But that's exactly what Justin Sandoval calls MembersOwn Credit Union. Maybe this is because MembersOwn is no ordinary financial institution. But what is it about us that Justin finds so wondrous?
"They truly are, 'all about you,'" said Justin. "They have a great staff who have provided my family and I with every value-added service they have and we love it."
Justin isn't exaggerating when he says he's taken advantage of everything we offer — checking, savings, auto loans, equity loans, online, mobile and text banking, MoneyDesktop, shared branching, and the list goes on and on. He even used our auto buying resources not only to find a low interest rate on a car loan, but to find the car itself, a 2016 Dodge Charger RT. (Nice choice, Justin!)
Though Justin raves about the perks that come with being a member, what keeps him here is the people. "I enjoy going to MembersOwn and speaking with the employees. They're always all smiles."
As our Featured Member, Justin chose Make-A-Wish® Nebraska as his charity that matters to him because, "they impact the lives of children diagnosed with life-threatening medical conditions, by giving them their one special wish."
By liking MembersOwn on Facebook or following us on Twitter, you can help Justin raise funds for this important cause. For 100 total new Facebook profile "likes" and Twitter followers during May 2017, we will donate $500 to Make-A-Wish® Nebraska on Justin's behalf. Because what matters to our members, matters to us.
At MembersOwn, it's all about you!