Jami Fristo
August 22, 2019 | News
Featured Members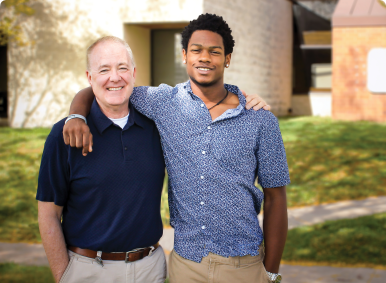 Respect is an important matter for Jami Fristo. It's a topic he's been teaching his son Kris from an early age. He wants Kris to grow up with unwavering respect for family, friends, community and heritage.
A focus on respect is one of the reasons why Jami has been a MembersOwn Credit Union member for the past 24 years. "They always go above and beyond to help me. They're very easy to work with and provide all the services I need." explains Jami. The Fristo family found the impeccable customer service a benefit during the loan approval process when they applied for their auto and home equity loans. For a busy father, Jamie finds our mobile banking, online banking and shared branching incredibly convenient. Kris has followed Jami's lead and opened his first savings account with us.
When Jami found out he was chosen as MembersOwn Featured Member, he knew exactly which charity he wanted to help: The Malone Community Center. "I believe in their mission to help young African American boys and girls succeed academically and socially. My son's experiences with the program have been invaluable," said Jami.
Kris joined The Malone Community Center's Talented Tenth program at the age of 15 and quickly became a mentor to other young African American boys grappling with the same issues. One of the things the Talented Tenth program and its sister program, Strong Courageous Girls, focus on is demonstrating to young adults the significance of being respectful. Jami added, "This program has provided Kris support and tools to be a better individual and give back to the community." That's why Jami wants his MembersOwn Featured Member donation of $500 to go toward both these crucial programs. In many ways, it is a demonstration of respect for future generations looking for guidance.