Christine Klingenberg
August 22, 2019 | News
Featured Members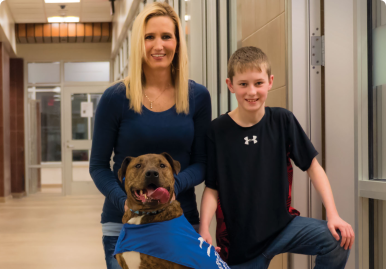 Good relationships are important to Christine Klingenberg. Being connected with family, friends, coworkers, her credit union and even fuzzy critters, all are special bonds she finds essential.
Thanks to her relationship building talents, Christine has been bringing new members to MembersOwn Credit Union for over 15 years. When they were just babies, she opened accounts for all three of her kids. Now her eldest son is also a 15-year member.
In addition to savings accounts and checking accounts, the Klingenberg's have a home loan with the credit union too. "When we were looking at loan rates for our house, MembersOwn beat out every other bank." She adds, "Plus, they made it really easy to switch over our loan."
When asked what she likes best about MembersOwn, Christine quickly replied, "Their customer service is outstanding. They're always really helpful and accessible."
As MembersOwn's Featured Member, Christine selected the Capital Humane Society as her charity to help out. "A lot of my coworkers and friends have adopted great pets from there." She explains, "Seeing how important that relationship is between owner and pet is truly special."
The Capital Humane Society recently opened a new Animal Adoption Center at 70th & Highway 2 in Lincoln, Nebraska. This new center provides animals that are ill, injured or temperamentally difficult
with more time and opportunities to become adopted.
"Seeing all of the cats and dogs that need good homes, made me realize what an amazing place the Capital Humane Society is", says Christine. "They deserve this donation from MembersOwn."
Thank you to the Capital Humane Society and to Christine Klingenberg, our Featured Member, for continually kindling good relationships that are so important to human and animal life.