Brooke and Kevin Ankersen
August 22, 2019 | News
Featured Members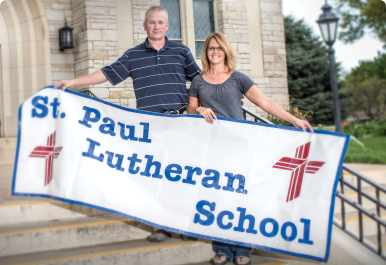 It can only be compared to a Norman Rockwell painting. A young girl and her family sitting around the dinner table enjoying their traditional Sunday dinner. Earlier that day the family had gone to church, another Sunday tradition. They greeted neighbors, shared stories and learned something together. The close-knit community is what Brooke Ankersen and her husband Kevin remember from their childhood. Though they didn't go to the same church, they had very similar experiences — ones they hope their children will have.
Community continues to be important to them and their children. They cherish the feeling of connectedness it brings. They've been with MembersOwn Credit Union for just that reason—the sense of belonging. It's been 18 years now since they opened their first account. Inside the credit union, they're known by their first names. They receive not just service, but kindness, understanding and genuine help.
The credit union is home to their checking account, and the family savings that equals peace of mind. Home to their auto loan, and the home equity line of credit that allowed them to buy a timeshare where vacationing as a family has become less of a financial nuisance. It's also where their kids have their accounts, catching the savings bug at the age of four.
Sundays continue to be important to the Ankersens. It's only fitting that they've chosen St. Paul Lutheran Church and School in Beatrice as their charity of choice. The school is where their kids attended elementary school. They want to split the donation between the church's operational expenses and the school's classroom needs. St. Paul represents everything they value — faith, family, education and community.