Yolanda Papke
October 29, 2019 | News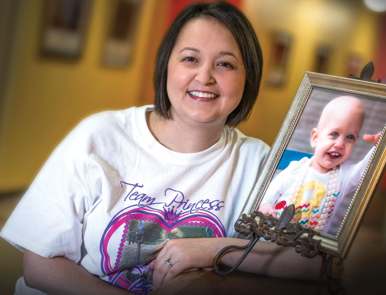 Yolanda Papke is one of our long-time members who started as an Aliant Credit Union member in 2001 and has been with us ever since. When Lincoln Telephone & Telegraph/Aliant Credit Union merged with Southeast Nebraska Federal Credit Union in 2008, they became MembersOwn.
Since her first car loan, Yolanda has been hooked on MembersOwn. She and her family now have checking and savings accounts and a secured loan here. She says, "I really like that MembersOwn is so willing to help you with your finances when you need it and they are very fast at getting you answers."
Yolanda isn't the only one in her family who "loves the friendly faces and great customer service." Her children also have savings accounts that they started a few years ago. She attributes some of this family fondness of the credit union to "the candy my kids get when we go through the drive-up window."
As a Featured Member, Yolanda chose the Princess Leyna Foundation as her charity of choice to benefit from MembersOwn's donation. This foundation helps the family of Leyna, a young girl who was diagnosed with Stage IV high-risk Neuroblastoma Cancer on February 7, 2013 at the age of 18 months.
Yolanda selected the Princess Leyna Foundation because she works with Leyna's mother and sees firsthand how this horrible disease has turned her "world upside down." Yolanda wants to do anything she can "to help this wonderful family."
Thank you, Yolanda, for giving us the opportunity to support this important cause that matters to you!