Patty and Paul Kaufman
October 29, 2019 | News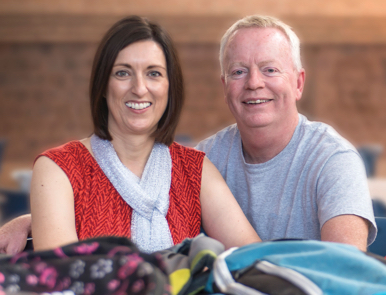 Featured Members, Patty and Paul Kaufman of Beatrice, have a history of keeping great relationships.
Patty says, "My husband and I have been married 20 years, and Paul was a member for probably 10+ years before that." Making them MembersOwn Credit Union members for more than 30 years! Patty, Paul and their family have found our savings accounts and car loans to be very helpful. Patty also likes the handiness of our shared branching network across the nation. She says, "It is convenient for me." And that is music to our ears."The people make it so easy to do business; they are knowledgeable and professional," Patty says. "They are great at having the paperwork ready and that is important to our busy family."The Beatrice Backpack Program is Patty and Paul's charity of choice to benefit from MembersOwn's donation – given on their behalf as Featured Members.
This initiative to provide food to families during the school year was started by Patty's Leadership Beatrice class in 2009."We believe in the program because it is needed in our community where many children get their only nutritious meals from the free breakfast and lunch programs at school." Alleviating child hunger in Southeast Nebraska by providing children and their families with nutritious and easy to prepare meals when other resources aren't available is the mission of the Beatrice Backpack Program.Thank you, Patty and Paul for helping us give to this important cause that matters to you!