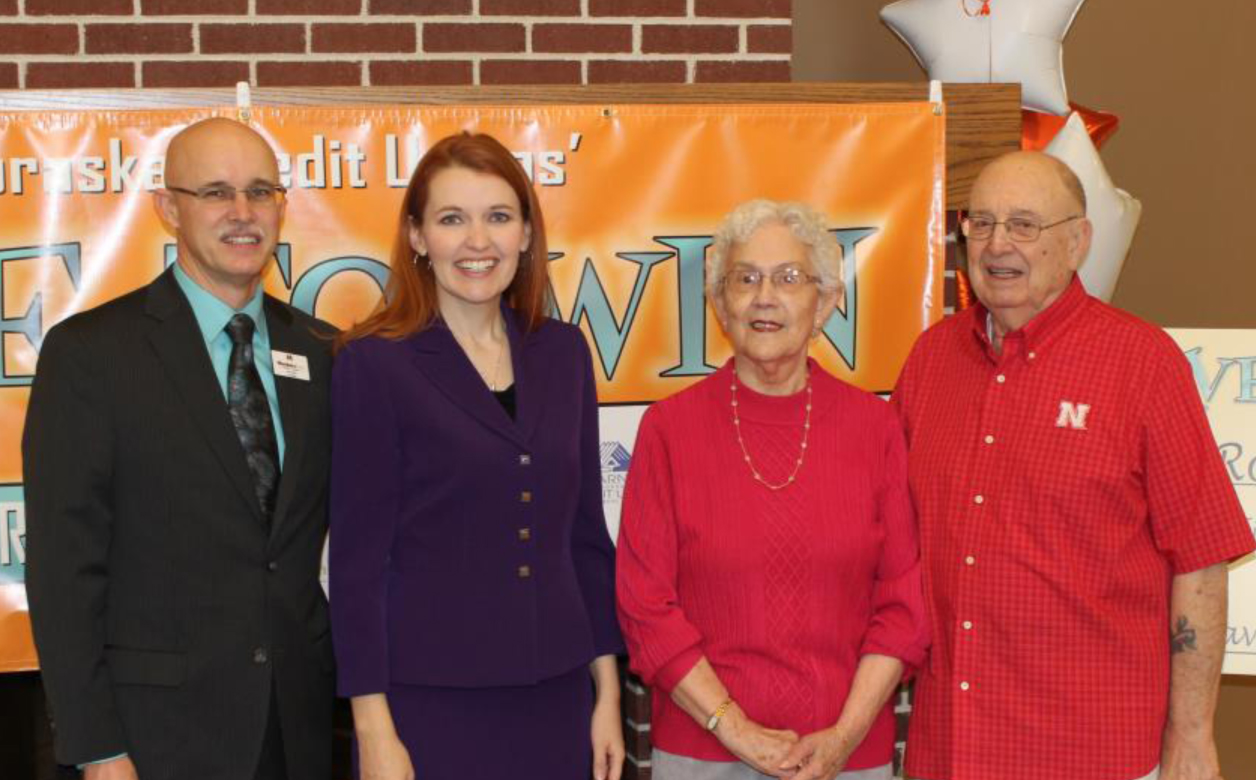 Nebraska Credit Union League
(LINCOLN, Neb. – February 12, 2014) Nebraska Credit Union League presented MembersOwn Credit Union member Ronald Hibbert with the 2013 Nebraska "Save-to-Win" program's $25,000 grand prize. Mr. Hibbert was among 1,462 credit union members across Nebraska who participated in the Save-to-Win program this year. The event included remarks from Scott Sullivan, President/CEO of Nebraska Credit Union League, State Senator Amanda McGill, and Kenn Miller, President of MembersOwn Credit Union. Mr. Hibbert was accompanied by his wife and family.
"We couldn't be happier to announce that Ron Hibbert, our long-time member for 47 years and counting, has won the grand prize this year! Ron's family has also grown up benefiting from MembersOwn Credit Union and we know that saving runs in this family; maybe winning will too. Ron has told me that this is the first thing he has ever won, and we can't think of anyone more deserving," said Kenn Miller, MembersOwn Credit Union President.
Save-to-Win accounts are one year share certificates or certificates of deposit, which members can open with just $25 and then build upon by making deposits throughout the year. Every $25 a member deposits into a Save-to-Win account earns him or her another entry into monthly and annual prize drawings – up to 10 entries per month! In addition to the $25,000 Grand Prize, Save-to-Win awarded $18,000 in monthly cash prizes throughout the year. A total of $43,000 in cash prizes were awarded to Nebraska credit union members for their entries in 2013.
"We are thrilled with the success of the program and how much credit union members were able to save," said Scott Sullivan, Nebraska Credit Union League President/CEO.
The Save-to-Win program was first launched in 2009 by the Michigan Credit Union League in partnership with Doorways to Dreams, the Filene Research Institute and 8 Michigan credit unions. In April of 2011, the Nebraska Legislature passed legislation to allow Nebraska credit unions to offer prize-linked savings and Nebraska became the second state to offer Save-to-Win. Since its implementation in 2012, Nebraska credit union members have opened 1,462 Save-to-Win accounts with a total savings of $2,409,188.99, an average of $1,648 per account. Save-to-Win programs have since been adopted in North Carolina and Washington. Connecticut, Rhode Island, and Maine have also passed legislation to allow prize-linked savings.
"The goal of the Save-to-Win program is to show our members that building a savings nest egg is possible even in small amounts and that saving doesn't have to be boring, but rather, it can and should be fun," said Sullivan
Nebraska Credit Union League (www.nebrcul.org) is the trade association representing 95 percent of Nebraska's 68 credit unions and their 455,000 members. Credit unions are not-for-profit financial institutions that are owned by their members and federally insured by the National Credit Union Administration. A credit union's Board of Directors is made up of volunteers who have been elected by the members of the credit union.
For information about setting up your Save-to-Win certificate at MembersOwn Credit Union, click here.