Register for the 2020 MembersOwn Virtual Annual Meeting
March 31, 2021 | News
Announcements, Events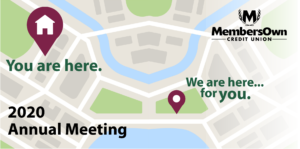 Join us for the 2020 MembersOwn Credit Union Annual Meeting! Our meeting will be held virtually Tuesday, April 27th at 6:30 pm on Zoom.
Please register in advance or at the meeting start time to record your attendance. We'll review our 2020 Annual Report and hear from Credit Union leadership. Each attendee will receive a gift in the mail from MembersOwn as a thank you for attending, and we'll select one lucky individual to win a pair of Apple AirPods!
To read the annual report ahead of time, click here.