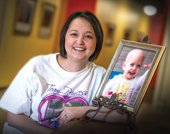 Social media voting decides $500 winning charity
This week MembersOwn Credit Union gave away $950 to charities, including $500 to the charity with the most votes on Facebook and Twitter, through their Featured Member contest. After the votes were tallied, Pediatric Cancer Action Network was revealed as the winning charity.
"Giving back to the community is always fulfilling for everyone involved," says MembersOwn President, Kenn Miller. "We really hope the publicity for the charities will encourage people to donate long after the contest has ended."
Each day in November, members and non-members alike could vote for one of 16 featured charities to win $500 for first place, $100 for second place and $25 for each of the remaining charities. In total, 1,118 votes were cast, 32% of which went to Pediatric Cancer Action Network. The winning Featured Member representing the charity was Yolanda Papke.
The Featured Member campaign began back in 2012 as a way for MembersOwn to help promote causes close to their members' hearts. To date, MembersOwn has donated $5,350 dollars to charities through the Featured Member campaign.
"What matters to our members matters to us," says Miller. "Giving back to the community brings us closer to those we serve, and doing so through social media is a huge plus. It allows MembersOwn to be a real-time, helpful part of the conversation. Because at MembersOwn, it's all about you."
MembersOwn will continue the Featured Member campaign in 2015, with plans to expand to other social media platforms.
A not-for-profit financial cooperative, MembersOwn Credit Union follows a positively different "people helping people" philosophy for its members by providing financial assistance, direction and security. From checking and savings accounts to loans and credit cards, MembersOwn sets itself apart from traditional banking by serving those who own it—its members.